Finding the Bliss....of Softness


"I found Rebecca at a difficult time. I was looking to rediscover who I was. My session brought me a sense of peace that I can only call bliss. My problems aren't gone, but my outlook is different. Whenever I see my framed portrait, it brings that bliss back to me no matter how hectic the day has been. And I remember who I am."  — Sara L., Evanston, IL, October 2020
While Covid has proved an enduring challenge, I have been grateful for the opportunity to take my photography in new and exciting directions. My recent Remote Portrait Session with Sara was a reminder of the elegant, perfect beauty we all have inside, waiting to be discovered underneath our daily stresses.
This was a special session from the start. Sara was one of my first clients to book a premium Eternal Light Collection. Due to her busy schedule as a marketing executive, we had to schedule our session several weeks out. Nevertheless, we hit it off from our first consultation call and I felt how important this was to her.  We especially bonded over our shared experiences of transitioning our businesses and professional lives into virtual operations. She also walked me through her daily routine and what led her to book the full Eternal Light experience. 

Her most important relaxing ritual since quarantine were the long baths at the end of the work day to reconnect with herself and transition into evening. This helped her shift away from her firm businesswoman persona and get more in touch with her softer inner femininity. This was especially needed for her in this time as she recently endured a difficult break up during the pandemic, which led her to book her session.

In Sara's heartfelt words on our cathartic first call: "This is the perfect gift to myself, and at just the right time..." 
Another way she was able to connect to her feminine essence was in the kitchen where she could enjoy the sensation of nurturing through food and cooking. After she told me her story and showed me around her beautiful home, I knew exactly which locations would help her explore that delicate and perfect inner self that has been waiting to emerge and blossom. I decided to use her bathtub and kitchen as inspired and meaningful locations that she could anchor into during the shoot.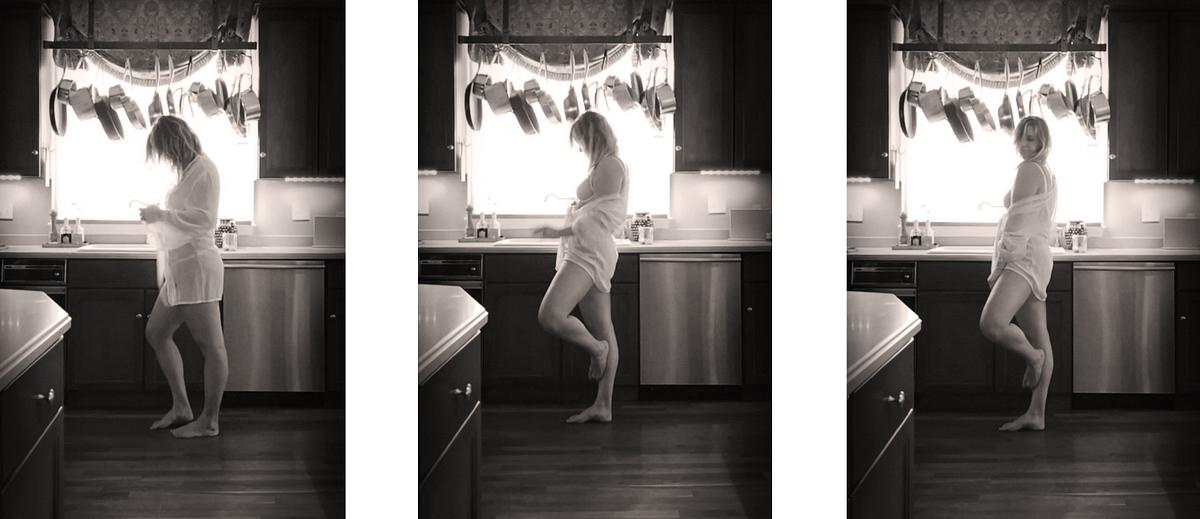 Once she emerged from her pre-session with the feminine embodiment guide, I could already see a calm inner peace glowing in her. Everything seemed to glide through seamlessly as we playfully explored different locations and expressions. All through our session, I noticed her stresses and past traumas seemed to fade and drift away, like layers of discarded old clothes that were no longer needed... She had a new quiet confidence and peace to her. 

I truly felt proud to capture this precious experience of transformation and self-love.
~Rebecca